October 28, 2022
October 2022 E-News: Now is the Time to Reshore from China
October 2022 E-News: Now is the Time to Reshore from China
As 1H 2022 data demonstrated, reshoring is on a tear. The U.S. is now in a unique position to maintain momentum, rebuild our industrial base and bring more production back from offshore. Imports from China are especially vulnerable. The process is a complex one that requires action by many players. Below are tailwinds and headwinds that will determine continued progress.
Tailwinds
A New Era of Industrial Policy Kicks Off with Signing of the Chips Act
"Dani Rodrik, a professor of international political economy at Harvard University, called the law historically significant 'because it is a sign that we have moved well beyond market fundamentalism and because it shows there is now bipartisan support for industrial policies.'" The Reshoring Initiative (RI) supports the Chips Act. However, the country needs a comprehensive industrial policy to make the U.S. competitive in a broad range of products/industries.


High Natural Gas Prices Push European Manufacturers to Shift to the U.S.
The Russia/Ukraine war is driving up energy costs in Europe, while relatively stable prices and green energy incentives are luring companies to the U.S.
Delivering the U.S. Manufacturing Renaissance
McKinsey:The stage is set for a manufacturing resurgence in the United States. $4.6 trillion of exports could shift to regional sources worldwide by 2030. Exhibit 4 analyzes industries by the magnitude and feasibility of shifting. Can the country's producers make it happen? Harry will be presenting at McKinsey's related Global Industries Leadership Summit in Chicago on Nov. 17.
Manufacturing Achieves Pre-Pandemic Employment Levels After Months of Incremental Gains
Reshoring and FDI have contributed about 360,000 – more than 25% -- of the 1.374 million manufacturing jobs added since the low point in April 2020. Manufacturing employment was up 22,000 in September.
POLL: Building American Manufacturing Resilience
"CEOs Are Investing In Talent & Technology While Also Reshoring & Nearshoring Their Manufacturing Operations." A new Xometry Poll with Forbes and Zogby reveals nearly two-thirds (64 percent) of the CEOs say they are currently reshoring or nearshoring their operations, or planning to.
A Methodology to Quantify the Cost of Supply Chain Risk Management Strategies
New sophisticated systems are being created around TCO-like logic, offering companies more guidance in doing the math correctly.
Headwinds
'We Just Don't have the People' Why Maryland manufacturers are turning down work
Training a skilled workforce remains the most important factor in achieving a manufacturing rebound. RI offers more advice here.
Free Markets Don't Buy Peace
The U.S. trade deficit is partially due to the preferential treatment we have given to other countries to encourage their development as democratic nations, thus achieving world peace. This theory has not worked. For example, China continues to enjoy Most Favored Nation status despite its increasingly authoritarian behavior. Russia's status was revoked in 2022.
Additionally, the USD was 25% overvalued as of Dec. 31, 2021, and has surged another 17% YTD, resulting in a 46% overvaluation. The simplest way to accelerate imports is to reduce the value of the USD using the Market Access Charge.
The Long March Out of China
China is still incredibly competitive in the short run. However, further evidence of increasing risk with China comes to light daily. Basically, everything happening with the country signals red flags for companies sourcing production there. It is not easy to shift production, especially complex electronic assemblies, out of China, but it is better to start the process sooner than later. Reviewing the developments and implications of the risks addressed below is key to making timely sourcing and siting decisions.
Apple's Tech Supply Chain Shows Difficulty of Dumping China
"Covid Zero, deteriorating US-Sino relations pressure US firms. Chips are in the crosshairs as Taiwan-China tensions increase…. Bloomberg Intelligence estimates it would take about eight years to move just 10% of Apple's production capacity out of China" For all U.S. companies, it is time to start moving now!
China Loses Allure as European Firms Rethink Investments
Ideology is trumping economics in China. Recent Chinese policy decisions mean the country is now seen as "less predictable, less reliable and less efficient" according to the report published on September 21st by the European Union Chamber of Commerce in China.
'The emperor has no clothes': Why China's reputation for economic management is coming undone

China's dim prospects turn disastrous
"China's debt is expected to reach the equivalent of 275% of its GDP due to massive borrowing and economic slowdown." If the housing bubble bursts, the subsequent economic melt-down will temporarily be bad news for the global economy. China's manufacturing costs will come down, but China will still not be cheaper than Mexico or Vietnam. The Chinese economy will flatten or decline. Economic and political instability will lead foreign companies to decide that China is no longer such an attractive market and will shift elsewhere, including to the U.S., Canada and Mexico.
China tariffs are working in nearshoring manufacturing
"US Trade Representative Katherine Tai announced this month the tariffs will remain in place after receiving many comments from domestic stakeholders who have benefitted from the China tariffs."
Five reasons why China's economy is in trouble
1. Zero Covid is wreaking havoc
2. Beijing isn't doing enough (to help its economy)
3. China's property market is in crisis
4. Climate change is making matters worse
5. China's tech titans are losing investors


American Health Care's 'China Syndrome'
Far too much of U.S. pharmaceutical and medical supplies (including 97% of antibiotics) are sourced directly or indirectly from China. The U.S. government will likely intervene to reduce the dependency.


Report: China emissions exceed all developed nations combined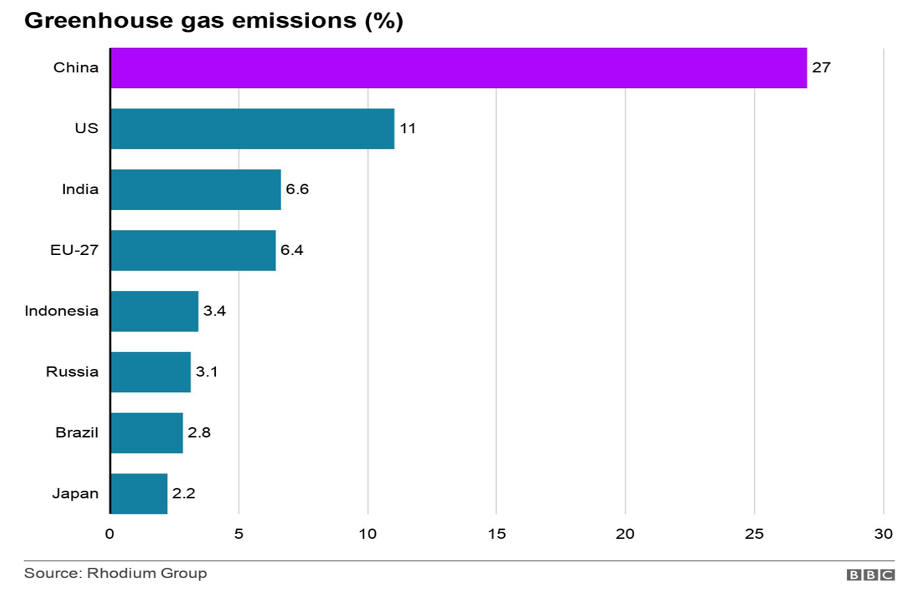 This chart shows China's huge impact on emissions. It probably does not include emissions from container shipping. Shifting manufacturing to the U.S. reduces emissions due to less coal in our electricity production and due to much lower shipping emissions.
Taiwan Tensions Raise Risks in One of Busiest Shipping Lanes
"Bloomberg calculated that almost half of the world's container ships and 88% of larger container ships transited the Taiwan Strait this year." Any actual hostilities over Taiwan will have a major impact on supply chains.
U.S. Technology Made in China: The Role of Federal Technology Licensing Policies
Too many products developed with government funding are being produced in China instead of the U.S. Similarly, the R&D Tax Credit can be taken by companies that source the subject products offshore, including from China.
In Summary
Overseeing the recent reshoring momentum should be a national industrial policy, and at the center of it should be a commitment to grow a large skilled workforce. An excellent new book, "Homecoming: The Path to Prosperity in a Post-Global World," by Rana Foroohar offers a strategic view of how the world will be better with a better balance of localization and globalism. See book review here.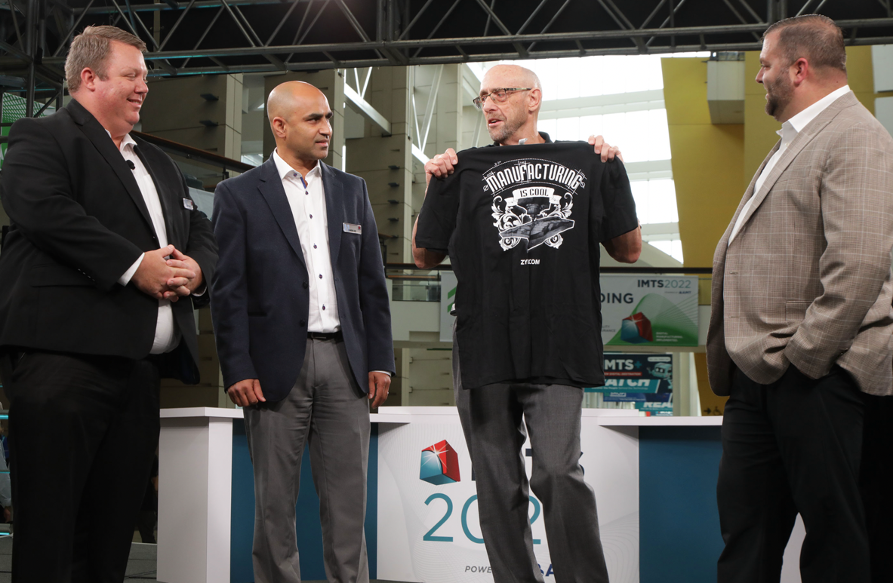 Harry Moser presenting "Manufacturing is Cool" t-shirts as bonuses to executives from Hardinge, Inc., the winner of the 2022 National Metalworking Reshoring Award, at IMTS+ Mainstage. See a recap of the week here.
Upcoming Events
October 20 – ASCM Corporate Roundtable
October 23 – IAMC, Detroit, MI
October 27* – AMT Smarter Sourcing Symposium recap
October 27* – Moser on Manufacturing on Manufacturing Talk Radio
November 17 – McKinsey's Global Industrial Leadership Summit, Chicago, IL
November 24* – Moser on Manufacturing on Manufacturing Talk Radio
December 1 – PMA Webinar #1, Reshoring
December 8 – PMA Webinar #2, TCO
December 29* – Moser on Manufacturing on Manufacturing Talk Radio
February 8 – NAI, Las Vegas, NV
February 22 – STI/SPFA Annual Meeting, Coronado, CA

* Recording dates. The recordings will also be posted on our website as soon as they are available.

See Upcoming Events for the latest updates.


Keep an eye out for Reshoring InitiativeQ3 Data, coming in November!

Why Reshore
Reshoring is an efficient way to increase corporate profits, reduce imports and regain manufacturing jobs in the United States. It's also the fastest and most efficient way to strengthen the U.S. economy.