May 22, 2023
May 2023 E-News: Riding the EV Wave, Reshoring is Still on the Rise
Reshoring Initiative Quarterly Data Report
2023 reshoring data is coming in, and it's stronger than ever.  Reshoring + foreign direct investment (FDI) job announcements are once again breaking records. Top takeaways:
2023 Q1 reshoring + FDI jobs announced are up 11% from 2022.

If the current rate continues, reshoring and FDI will total 406,000 jobs in 2023.

Electrical Equipment remains the top industry due to continuing large investments in EV batteries. The industry moved from 42% of total jobs announced in 2022 to 47% in 2023 Q1.
Read more at Reshoring Initiative 2023 Q1 Data Report.
Why so much focus on EV batteries?
With a global consensus that gas-powered vehicles must be phased out, every automobile manufacturer's existence depends on its ability to produce electric or hydrogen-powered vehicles. The chart below demonstrates how the U.S. has been and would otherwise continue to be extremely vulnerable in its dependence on China.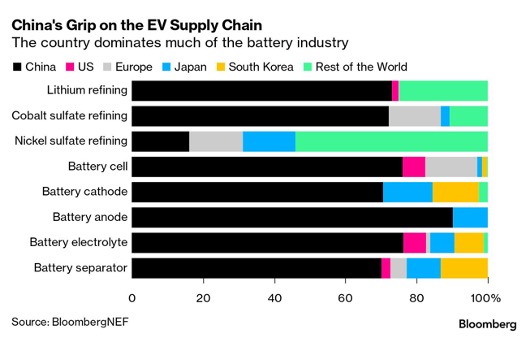 Biden Makes Electric Vehicle Credits Elusive in Bid for US Auto Renaissance
The number of cars qualifying for IRA tax credits is set to shrink, until more models meet the requirements for battery components or critical minerals sourced from North America or U.S. free trade partners. Incentives for consumers and manufacturers are driving investments to make more models eligible. The rules are aimed at diluting China's market power over lithium, cobalt, nickel and magnesium - key ingredients for electric motors and batteries.
A Fresh Approach to Recycling EV Batteries
Opportunity knocks, but more than ever it demands scaling, timing and flexibility.
Biden's massive manufacturing push is working and U.S. companies have already committed $200 billion to new projects
For more on why the manufacturing push is succeeding, see Making Manufacturing Greater Again, though we disagree strongly with Prof. Krugman's statement "we shouldn't fetishize manufacturing. A good job is a good job; there's nothing inherently superior about manufacturing as opposed to health care or even entertainment." The lack of focus on manufacturing got us to this point where the U.S. is so dependent on imports that it needs $100 billions in government incentives to start the recovery.
Reshoring Revolution: A Special Report
A new Chief Executive / IEDC survey of CEOs dives deep into the race to bring production back to the United States from China.
The following companies recently signed on as high-level sponsors: MC Machinery, United Grinding and Fives. We are honored by their support and appreciate all of our 36 Sponsors. Thanks!
Geopolitical Considerations
Companies Thought They Could Ignore Geopolitics. Not Anymore.
Last year:
93% of multinationals reported losses linked to political instability

68% of companies bought political risk insurance

48% predicted deglobalization would significantly strengthen

42% predict decoupling from China will significantly increase
"Companies' ability to do business in Russia and China will continue to deteriorate," Bergman [CEO of M&C Saatchi World Services] said. "When, and it's when, China acts on Taiwan, the international reaction will significantly impact global businesses… The impact will be significant if not crisis-bringing."
What it will look like if China launches cyberattacks in the U.S.
Chinese hackers are likely to target U.S. military networks and other critical infrastructure in the event of an invasion of Taiwan.
'Resupply is not an option': Lawmakers wargame Chinese invasion of Taiwan
"If the Chinese do invade Taiwan, any business or investor that is overly dependent on the Chinese market, including both suppliers and customers located there, will suffer. We want American businesses to deal with these risks responsibly, not stick their heads in the sand."
Geopolitics, container shipping rates and an ominous sign from Taiwan
Contract rates on the short-haul run between China and Taiwan now cost the same as Shanghai to Los Angeles. Erik Devetak of Xeneta predicts that "geopolitics will affect the length of the contract people are willing to take, because with a more uncertain world, in terms of geopolitics and therefore also indirectly in terms of supply chains, longer-term commitments potentially become less appealing to the supplier." 
Here's How Supply Chains Are Being Reshaped for a New Era of Global Trade
"Nearshoring. Automation. Supplier diversification. Sustainability. Companies are adapting their operations to changing market pressures and geopolitics… You have to ask yourself, which do you want? Are we going to minimize risk for shareholders and customers or are we going to minimize costs?"
US Companies in China Grow More Pessimistic About Bilateral Ties
Nearly 90% of poll respondents are negative on US-China: AmCham

Firms more optimistic regarding China's economic recovery
Policy
DOE Debuts $50M Smart Manufacturing Funding Program for Small & Mid-sized Companies
The program strives to modernize companies with automation and IoT technology to help boost domestic production efficiency.
Biden-Harris Administration Announces $82 Million Investment to Increase Domestic Solar Manufacturing and Recycling, Strengthen the American Clean Energy Grid
The move is likely to increase the 28,500 jobs announced in the solar industry since 2020.
Rubio Releases Pro-American Industrial Policy Agenda for the 118th Congress
Senator Rubio has a significant pro-manufacturing legislative agenda, involving various degrees of reshoring.
From Rockets to Ball Bearings, Pentagon Struggles to Feed War Machine
"The United States lacks the capacity to produce the arms that the nation and its allies need at a time of heightened superpower tensions." The Reshoring Initiative believes the U.S. needs to increase output in a broad range of industries, not just in military materiel. By doing so, we will have the capacity to switch to military materiel if needed.
Skilled Workforce 

Need to hire? RI encourages you to check the new website and service that our friend, Adrienne Selko, former Editor at Industry Week, has just launched.  Workforce availability must be overcome for reshoring to continue to surge. Manufacturers are in need of talent to fill open jobs, and there is talent available that is often overlooked. A new website, Tapping Into Talent, aims to connect those two groups. The website showcases companies that are using diverse talent, including veterans, second chance (formerly incarcerated) citizens, as well as disabled and neurologically diverse people. The number of unemployed working-age citizens in these groups totals in the millions. Also featured are organizations that represent this talent in terms of training and job banks. Resources for employers, such as tax information and blueprints to create internal processes, can be downloaded.
While some students skip college, trade programs are booming
Trade programs are often more affordable than a traditional four-year degree and for many, skilled trades offer a more obvious path to a job.
More Reshoring News
China Auto-Parts Makers Join Apple in Offshore Factory Push
Chinese car parts makers are facing growing pressure from overseas customers to set up factories outside the country as mounting trade tensions and three years of Covid lockdowns make the customers wary of relying too heavily on China. 
Upcoming Events
May* – Moser on Manufacturing, on Manufacturing Talk Radio
May 24-25 –  United Grinding Open House, Miamisburg, OH
June 5 – International Zinc Association, Chicago, IL
June* – Moser on Manufacturing, on Manufacturing Talk Radio
July* – Moser on Manufacturing, on Manufacturing Talk Radio
August* – Moser on Manufacturing, on Manufacturing Talk Radio
August 9-14 – Camp Kotok, Maine
August 17 – Steel Tank Institute (STI) webinar, Chicago, IL
September 11-14 – FABTECH Reshoring Award
October 4-6 – MT Forecast, Detroit, MI
November 9-10 – American Made Conference, virtual
* Recording dates. The recordings will also be posted on our website as soon as they are available.
See Upcoming Events for the latest updates.