September 6, 2023
August 2023: China Manufacturing Dwindles As U.S. Gains
Supply Chain
Why It Seems Everything We Knew About the Global Economy Is No Longer True
RI comment: The title ought to be, Much of What We Knew About the Global Economy Was NeverTrue. The NYT author understates how wrong her publication and most experts have been. She and most commentators refer to globalization as providing efficiency. This description is not correct and never was. Globalization reduced costs. Supplying the U.S. from Asia actually increased: energy/fuel usage; effort since productivity was lower; inventories; waste due to overstocking at retail; pollution, etc. If measured correctly, globalization often did not even reduce cost. Companies that source based on Total Cost of Ownership (TCO) find that 20 to 30% of what they import can be sourced here with equal or greater profitability and much lower risk. The U.S. and companies have made excellent progress, increasing the number of reshoring jobs announced from 6,000/year in 2010 to a projected 390k/year in 2023.
Widespread Lean Adoption Would Make the US More Competitive
Doug Berger explains why raising individual company productivity is essential to revitalizing U.S. manufacturing.
Reduced risk, regionalization become supply chain priorities, economics expert says
Historic decarbonization deal could inflate future shipping rates
"Methanol is triple the price of very low sulfur fuel oil, said Hapag-Lloyd. Consultancy Drewry estimated that a switch to "green" methanol — methanol produced from biomass or by other means to reach carbon neutrality on a well-to-wake basis — would increase fuel costs by 350%"
Why are Companies Moving Back Home? An investigation into the drivers of location choice in the European apparel industry
RI comment: Relevant to U.S. reshoring. Europe seems to have offshored somewhat less than the U.S. and has maintained more industry capacity. Cost is a driving factor in offshoring as in the U.S.
3 major companies trying to move supply chains out of China, and how they're faring in their attempts to move away from the factory of the world
Apple, TSMC and Mazda
Survey: Nearshoring to Mexico happening 'faster than expected'
"While 88% of SMBs (small to medium businesses) plan to switch at least some of their suppliers to ones either in the U.S. or close by, 45% plan to switch all of them."
Three-quarters of US SMEs 'looking to nearshore suppliers'
Small and mid-sized businesses are looking to nearshore their supply chains to increase efficiency and improve sustainability, according to a survey by Capterra. RI comment: In this survey "nearshoring" includes bringing work to a near shore and to the U.S.
More Reshoring News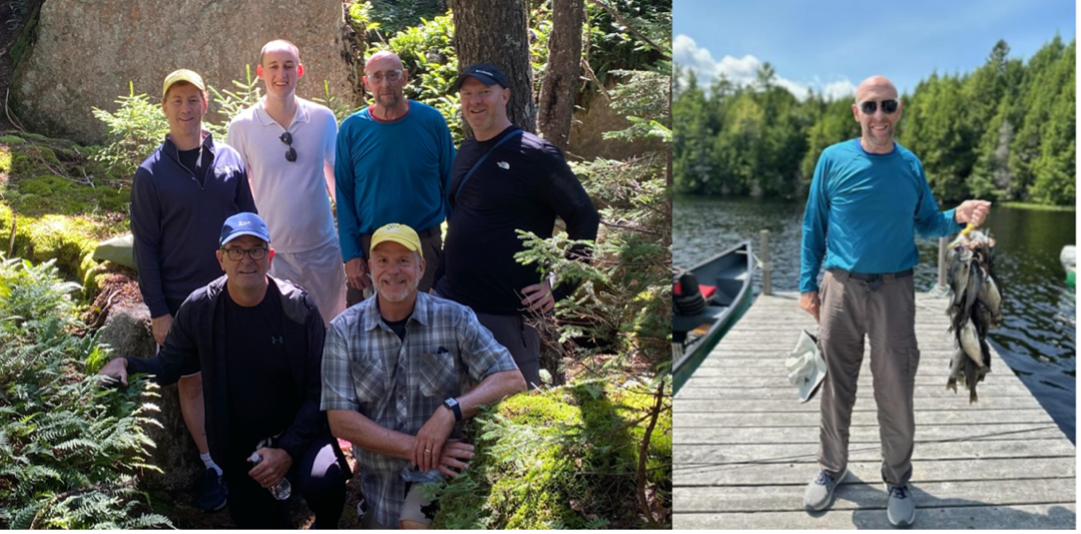 Hiking and fishing with other Camp Kotok guests …for those who think Harry only works!
See our contribution to David Kotok's discussion on the national debt ceiling debate here.
Chip Fabs Are Springing Up Nationwide. The Next Step? Boosting Printed Circuit Board Production<>
RI has been strongly advocating this for a year. No sense in making huge numbers of chips if we do not assemble the products that use the chips. We do not want to depend on China as our chip customer.
Inflation remains high in most of world as it cools in the U.S.<>
The annual rate of U.S. inflation — the increase in the Consumer Price Index —is at 3% from June 2022 to June 2023. It's the lowest inflation we've seen since the spring of 2021. 8.7%, 6.4% and 4.8% are the latest annual inflation rates for the U.K., Germany and India, respectively. The U.S. has now gotten ahead of much of the world in fighting inflation. Combined with the USD down 8% from its 2022 high, this makes us more competitive.
Senators Baldwin, Vance Introduce Bipartisan Bill to Ensure Taxpayer-Funded Inventions Are Made in America
Green Energy Is Helping Drive U.S. Industrial Real-Estate Growth
Manufacturers of electric vehicles and parts are leasing more space as e-commerce pulls back from its rapid expansion during the pandemic.


More governors are saying 'no college, no problem' to job-seekers
Government employers are looking "at the broader phenomenon of what supporters call "skills-based" hiring — essentially deciding that work experience or life experience can substitute for a diploma — for government jobs," a trend that will further expand opportunities for vocational workers.
'American Made' T-Shirts Are Having Their Best Year Yet
Good article on US apparel.
World Robotics Report: "All-Time High" with Half a Million Robots Installed in One Year
Automation equipment companies are expected to be the other big winner from a North American manufacturing revival as their technologies are what make the economics of such a shift work, but growth in robot installations in the U.S. in 2021 was a fraction of the pace seen in China and also trailed Japan and the combined European market, according to the International Federation of Robotics.
Why is America running short of cancer drugs?
The problem is rooted in America's overreliance on foreign suppliers, Tinglong Dai and Christopher S. Tang wrote, "Either we take steps to phase out our reliance on foreign manufacturers, or the FDA needs to step up its quality inspections." Nearly 3,000 foreign factories provide most of America's pharmaceuticals, but the FDA inspected just 6% of them in 2022. That means crises like the cancer drug shortage are always lurking. "This is a glaring failure hidden in plain sight." RI comment: The risk the U.S. faces along with the loss of manufacturing jobs is especially galling given that the U.S. price for pharmaceuticals is twice the price of other developed countries. Americans pay for the worldwide industry's research and profit and then do not get the manufacturing jobs and dependable supply.
Upcoming Events
Announcing the Association for Manufacturing Excellence (AME) 2023 Conference.
Please consider attending this event, which will be held at the Huntington Convention Center of Cleveland from October 30 to November 2 and will include 9 keynote sessions, 10+ workshops, 30+ practitioner presentations, 25+ best-practice tours, and countless opportunities to network.
"AME leads the fight for lean in the U.S. and has been very supportive of the Reshoring Initiative. Lean is key to being competitive enough to reshore. I encourage you to attend." – Harry Moser
August* – Moser on Manufacturing, on Manufacturing Talk Radio
August 17 – Steel Tank Institute (STI) webinar: Globalization: The Times Are Changing!
September* – Moser on Manufacturing, on Manufacturing Talk Radio
September 11 - 14 – FABTECH, Chicago, IL
Mon - PMA reception Booth D41560, 3 PM, RSVP here.
Mon and Tues - MC Machinery Booth A2123, 11 AM
Mon - National Metalworking Reshoring Award, Main Stage, East Building 2 PM
September 21 – UH-Y Annual Manufacturing Supplier Outlook, St Louis, MO
September 25-27 – Forging Industry Association (FIA), Nashville, TN
October* – Moser on Manufacturing, on Manufacturing Talk Radio
October 4-6 – MT Forecast, Detroit, MI
November* – Moser on Manufacturing, on Manufacturing Talk Radio
November 2 – MC Machinery 2023 Customer Technology Summit, Elk Grove Village, IL
November 9-10 – American Made Conference, Virtual
* Recording dates. The recordings will also be posted on our website as soon as they are available.
See Upcoming Events for the latest updates.