March 28, 2023
March 2023 E-News: Another Stellar Year for Reshoring in 2022
March 2023 E-News: Another Stellar Year for Reshoring in 2022 
Reshoring Initiative Annual Data Report
2022 reshoring + FDI job announcements were at the highest rate ever recorded. 4Q announcements accelerated even more than anticipated due to the Chips and Infrastructure Acts, combined with deglobalization trends. Top takeaways:
364,000 reshoring + FDI jobs announced for 2022, up 53% from 2021's record
EV batteries make Electrical Equipment the top industry
With the IRA, Chips Act, and Infrastructure Bill, the U.S. Government is finally warming up to an industrial policy, though a more comprehensive and sustainable plan could be achieved at a lower cost.
Read more at Reshoring Initiative 2022 Data Report.
Policy
Increased federal manufacturing subsidies accelerated 2022 reshoring. In addition to the IRA and Chips acts, Biden has launched "China House" to counter Beijing's growing international clout. The House of Representatives has set up a tough-on-China Select Committee. Congress boosted funding to stockpile key metals and battery ingredients. There are increasing calls to end China's "most favored nation" status.


Update on the CHIPS and Science Act
Funding opportunities have begun. Find out what is in the law and what you need to know. "The new CHIPS+ law contains billions of dollars for significant manufacturing and R&D incentives to build the U.S. semiconductor industry."
Why 'Economic Security' Became Magic Words in Japan
In confronting China, Japan is thinking beyond its military. Pres. Biden's policy is similar but is not broad enough. In addition to targeting essential industries, we need self-sufficiency in most industries achieved by a much better trained workforce and lower USD.
White House map of $1B+ factory announcements since Pres. Biden's election.
Reshoring Initiative is proud to be listed as the #1 source of data.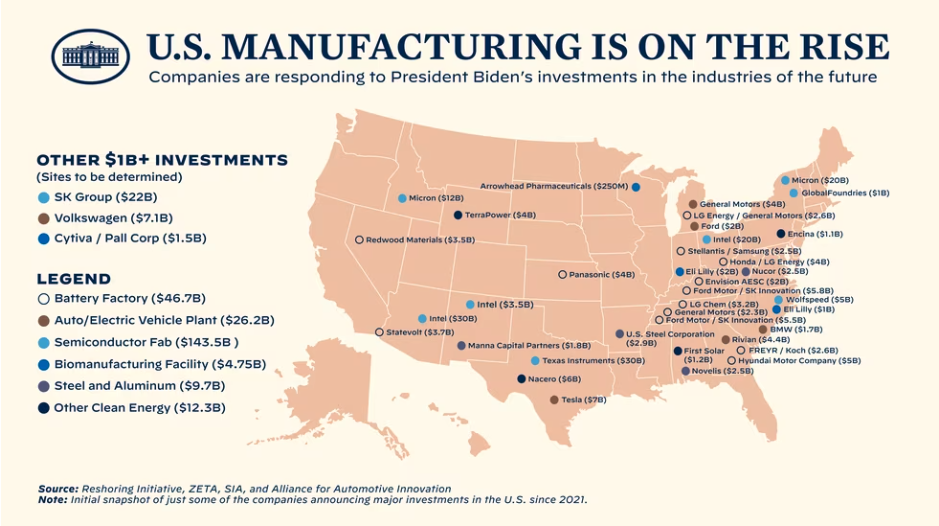 Skilled Workforce  
Schools See Apprenticeship Programs as Alternatives to College Prep
A program in the Kalamazoo Public Schools is aimed at putting students on an alternative track toward well-paying jobs which do not require traditional college degrees. The program, Career Launch Kalamazoo, is part of a national trend aimed at putting apprenticeships on a parallel track with the college prep curriculum, telling students they have more than one route to success.
Delivering the US manufacturing renaissance (McKinsey)
"In most cases, employees don't need four-year degrees, and they can earn twice as much as those holding equivalent service-sector jobs, as employers invest in upskilling and reskilling their current workers by offering expanded learning opportunities. Our analysis suggests that reviving manufacturing could add up to 1.5 million jobs, particularly among middle-skill workers, which would help recalibrate the US labor market and bolster the middle class."
More China Developments
U.S. defeats China in simulated war over Taiwan, but costs are high, says new study on risks
Xi's new priority is to minimize China's dependence on other countries and maximize its ability to coerce them economically.
Disengaging from China manufacturing is hard, but it's happening slowly
Dell and Apple's supplier of AirPods are making progress in moving production out of China.
The Chinese Century is Already Over
Yi Fuxian traces the profound global implications of the country's declining population and economic prospects. See also, China's Angry Pensioners Are Symptomatic of Deeper Problem, which highlights interrelated problems entangling the country: rising healthcare costs, strained local government finances, an inadequate social safety net, and heavy debt.
China's Newest Weapon to Nab Western Technology—Its Courts
Chinese courts are helping China steal technology,
Supply Chain
Shifting Supply Chain Winds Favor Regionalism, Restructuring
World's ports grappled with four times as many labor strikes in 2022. Civil unrest and worker protests surged amid worsening inflation.
Labor Unrest Spilling Into 2023 May Bog Down Global Trade
Disruptions will continue. Shorten your supply chain!
New Supply Chain Resilience Report Reveals The Extent Of Disruption In 2022 And Expectations For 2023
70.1% of companies took measures in 2022 to build up their supply chain resilience
43.7% of companies believe that local sourcing will help strengthen their supply chains in 2023.
The growth in Europe and North America can likely be attributed to businesses choosing local sourcing and the effects of China's zero-COVID policy, which led to lockdowns. See Complete Report here.
How Smaller Companies Can Bring Manufacturing Closer to Home
This touches on a lot of the automation imperatives that the Reshoring Initiative advocates.
Inflation, Geopolitics to Weigh on Supply Chain Over Next 5 Years 
(Deloitte)
"Transportation executives preparing for nearshoring anticipate 20% of Asia-originating freight will move to closer-proximity markets by 2025, doubling to 40% of freight originations by 2030."
Years of global supply chain chaos could mean a nearshoring jackpot for the Americas in 2023 
According to Economic Minister Raquel Buenrostro, in 2022 400 North American companies were exploring moving their operations from Asia to Mexico. He predicts that number will increase, with companies diversifying and moving a portion of operations from Asia to both Mexico and the U.S. In 2022, Mexico's manufacturing sector grew 5%, exceeding its pre-pandemic size, and the current conditions represent the "best growth opportunity for the next 10 years."&nb