November 23, 2021
November 2021 eNewsletter - Gaps in China's Armor Create Opportunities for U.S. Industrial Recovery
November 2021 E-News: Gaps in China's Armor Create Opportunities for U.S. Industrial Recovery
China is facing a number of domestic issues including: labor shortage, shipping and electricity. The U.S./China relationship is facing additional issues: Taiwan and the possibility of decoupling. While these issues will continue to cause problems for U.S./global supply chains, they are also propelling a long overdue push in the U.S. toward greater self-sufficiency.
Background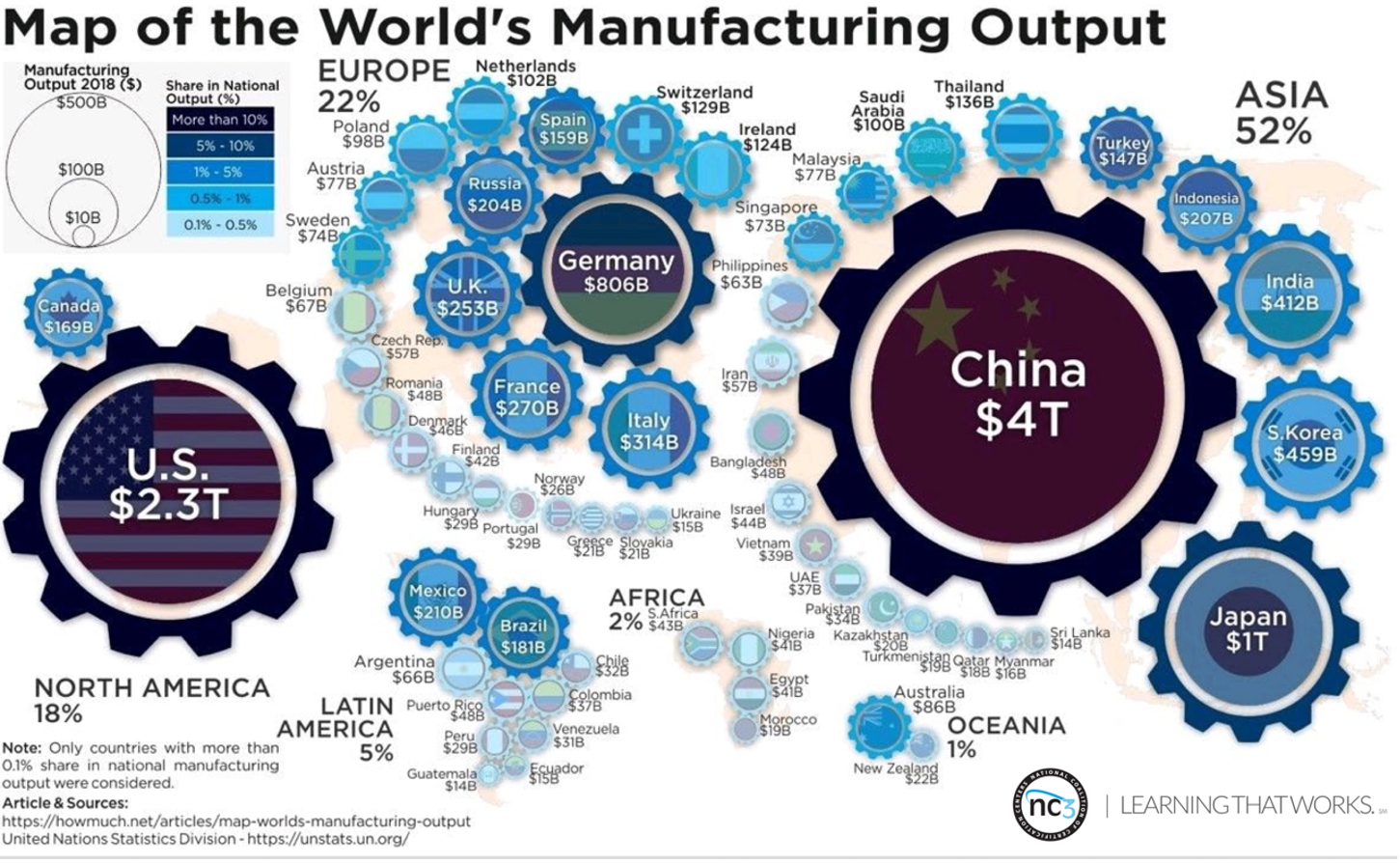 The relative size of U.S. and Chinese manufacturing is actually much worse than the 1.6X shown in the chart. Manufacturing is measured in value. U.S. prices are, on average, 40% higher than China's. Therefore, China's manufacturing is about $5.6T which, if measured at U.S. price levels, is about 2.4X the U.S level. The difference in output is troubling, giving China huge advantages with supplier countries, in military material and the ability to stop shipping essential materials and products to the U.S.
The U.S. trade deficit continues to rise. Our deficit with China is up 10% from 2020, projected to reach $340 billion, which represents about 2.5 million manufacturing jobs. When we balance the trade deficit, China's output will only be about 1.7X U.S. Below is a summary of China trends, followed by some reasons to expect a closing of the trade and output gaps.
Problems in China

China's double-digit growth and booming middle class have attracted trillions of dollars in foreign direct investment (FDI), which enabled continued growth. If growth drops to or below zero, e.g. due to contractions in real estate construction, the motivation for such investment will collapse and growth will slow further. FDI in China will also be chilled by U.S./China geopolitical tensions.
Daily Memo: … Financial Pressure in China "Factory gate prices in China are rising at a record pace as a result of the myriad inflationary forces hitting economies across the globe, including increasing wages and soaring energy costs. China's official producer price index for the month of September showed a 10.7 percent increase over a year ago, following a 9.5 percent jump in August. This is the fastest increase since the mid-1990s." October's PPI rose to 13.5% year over year. The CPI was up only 1.5%. China is shifting the cost increases to exports while protecting its consumers. China Macro Economy
China's Manufacturing Activity Contracts for Second Straight Month Manufacturing sector weighed down by raw material costs, a power crisis and a slowdown in the property sector.

Louis-Vincent Gave: China's Investibility Q&A  "News from China has grown both more important and more confusing in recent months. Louis Gave pulls together conversations within the Gavekal team in handy Q&A format, including:"
Is Evergrande China's Lehman moment?
Don't you find this string of corporate takedowns scary?
Surely China and the west can work together on some issues?
Doesn't that mean China's growth will slow further?
Won't slower growth threaten Xi's grip on power?
What should we make of "common prosperity?"
Why does Evergrande matter? "The Evergrande crisis is not the cause of anything. It is simply one of the most recent of a series of debt-related crises beginning with that of Baoshang Bank in May 2019. These…reflect the unsustainable underlying debt dynamics that have characterized the Chinese economy for at least a decade."

"There are a number of potential risks and problems associated with Evergrande…Among these are the risk of domestic financial contagion, the risk of global financial contagion, the financial distress impact on the economy, and the implications for China's underlying growth model."
What Does Evergrande Meltdown Mean for China? "China's official debt-to-GDP ratio has soared by nearly 45 percentage points in the past five years, leaving it with among the highest debt ratios for any developing country in history." The property sector is one of the main engines of economic activity for the Chinese economy, accounting for as much as 25 percent of the country's GDP (considerably higher than is typical in other countries)." "Between one-fifth and one-quarter of the total housing stock, especially in more desirable cities—owned by speculative buyers who have no interest in either moving in or renting out."


China Urges Evergrande's Hui to Pay Debt With His Own Wealth. Such severe actions may be justified but will chill investment in China.


U.S. Signals No Thaw in Trade Relations With China  "…United States Trade Representative Katherine Tai..."offered [the Administration's] strongest signal yet that the United States' combative economic approach toward China would continue, with senior administration officials saying that President Biden would not immediately lift tariffs on Chinese goods and that he would hold Beijing accountable for trade commitments agreed to during the Trump administration."
Shadow Inflation: Shipping costs are up way more than you think Latest data:
Global delays for late vessels doubled
Service metrics sunk as rates have risen
2021 Spot rates up 4.5Xs vs. 2020 rates
Container rates will increase 126% in 2021 vs. 2020
Average delays up 425% while short term rates up 102%
Summary: China has huge momentum, assets and production capability. The issues so far are not enough to cripple China but are much more severe than in the past. There is some risk that the Communist Party will divert its people from increasing problems by focusing on a foreign threat.
Opportunities for the U.S.

Recent reports indicate that the U.S. is starting to focus on key actions to pivot away from dependence on Chi