October 1, 2021
September 2021 eNewsletter - Pandemic and Supply Chain Chaos Drive 2021 Reshoring to Record High
September 2021 E-News: Pandemic and Supply Chain Chaos Drive 2021 Reshoring to Record High
Latest Data
Reshoring Initiative 1H2021 Data Report: Essential Product Industries Drive Reshoring Job Announcements to Projected Record High for 2021 The pandemic has spurred a national push to strengthen domestic supply chains, especially of essential products, driving reshoring numbers higher. If 2H2021 progresses at the same rate as 1H2021, reshoring and foreign direct investment (FDI) job announcements for 2021 are projected to be over 220,000 – 38% above an excellent 2020 and the highest annual rate to date. Read all of the trend details here.
Deloitte 2021 Global Chief Procurement Officer Survey  Many of the findings support the reshoring trend:
Operational efficiency has replaced reducing costs as #1 priority.
Corporate social responsibility rated highly, up dramatically from 2019.
32% said they are losing revenue due to supply shortages.
Politics
The Bill That Could Truly, Actually Bring Back U.S. Manufacturing. And help the climate, too. One piece of the puzzle is highlighted here: "The U.S. doesn't have a high-end manufacturing sector because nobody will finance one. …Recently industrial policy has become more popular across parties—Senator Marco Rubio, a Republican, has spoken favorably of it—and now a group of moderate Democratic senators, led by Senator Chris Coons of Delaware, has proposed chartering an Industrial Finance Corporation, a bank owned by the U.S. government that would fill the "manufacturing gap" and finance high-tech production nationwide. We are not opposed to the concept, but it is clearly not sufficient to achieve the objective of bringing back U.S. manufacturing. The key is to get U.S. manufacturing cost lower by shifting to a training system like Germany's and some combination of a lower USD, low corporate income tax rates and a value added tax (VAT). When costs are competitive and factories are busy, companies will be able to justify borrowing at commercial rates to fund needed investments.
Why your iPhone may never be Made in the USA Supply chains have become too globalized. Some points from the article:
There's no one fix to bring "Made in America" back to what it once was.
It would take about a decade of concerted investment to graduate people with the right skills, certificates, training or degrees necessary to build back American manufacturing capability.
It'll also take years to shift supply chains currently focused on bringing parts into and out of Asia. "As we bring the manufacturing back, we'll put more people into those jobs, and then we'll have all that expertise," Harry Moser says.
The U.S. government also needs to carefully impose tariffs and value-added taxes to "take the tilt out of the playing field." The U.S. is one of the few countries without a 15% value-added tax on imports.
The Heritage Foundation opens a new front in the war on manufacturing A research fellow at "The World's Leading Think Tank for Policy Impact" conjures up a story that U.S. manufacturing isn't worth the investment. Thought leaders everywhere cringe."
Failures' Fallout: Predicting Politics & Policy in the Post-Pandemic Era  One of the most effective lobbying firms in Washington, DC, Mehlman Castagnetti's bipartisan team helps clients develop and implement winning advocacy strategies and navigate policy battles taking place in Congress, the White House, and regulatory agencies. The projections on their infographic, below, show forces shifting from supporting offshoring to favoring reshoring. We especially agree on: tech overcoming our wage disadvantages; the China decoupling threat; consumers preferring local products; including employees, suppliers and community as stakeholders; and recognition of the importance of national self-sufficiency. We disagree on one item. Offshoring does not improve "efficiency," it reduces factory price. Efficiency is output per unit of input, e.g. labor or energy. Offshoring uses much more labor since productivity is lower in most countries. Offshoring requires much further shipment of products, increasing energy usage. From a green perspective, offshoring is much worse for the climate. We might also reverse the column headings, taking the longer-term perspective. Since U.S. supply chains will be strengthened by the 2020 conditions, we would call them "Tailwinds."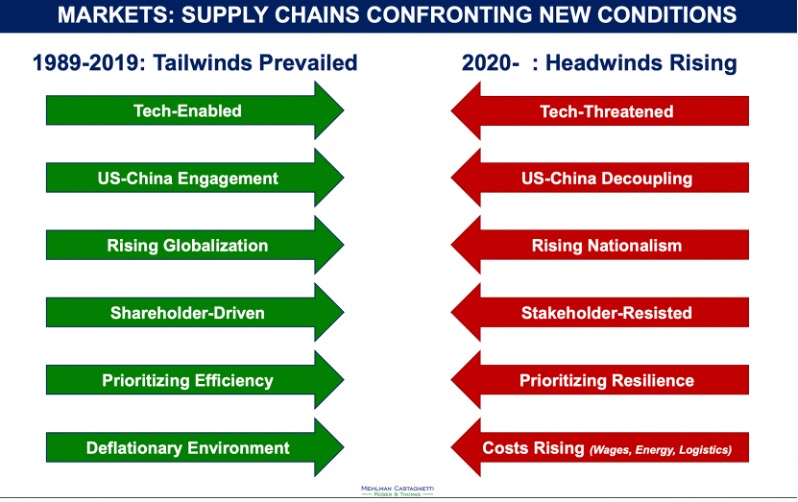 Source: Mehlman Castagnetti, August 12, 2021

New "Made in USA" Rule Passes, Discourages Fake "Made in America" Claims" In its release, the FTC said the new rule allows the commission to seek damages, penalties, redress, and other relief from those who lie about a "Made in USA" label. Rule violations can result in a penalty of up to $43,280 per violation." 
Building Resilient Supply Chains, Revitalizing American Manufacturing, and Fostering Broad-Based Growth See Biden's full 100-Day Reviews under Executive Order 14017.
China and Asia: Weak Links in the Global Supply Chain
Chinese Factories Are Having Labor Pains—'We Can Hardly Find Any Workers'
Demographics, fear of Covid-19 and youths' changing priorities leave factory owners in a pinch. China's trends parallel most of the world. Fifty years ago, U.S. youth started to prefer university to manufacturing. Around 2005, at an ISTMA (International Special Tooling and Machining Association) meeting, Harry Moser heard the same complaint from a broad range of developed and developing countries, "All of our youth want to go to university instead of into apprenticeships." The U.S. is making skilled workforce training progress and the international bar is getting lower. Good news!


Cargo airlines cancel hundreds of China flights amid COVID outbreak  From Freight Waves, 2021 China Supply Chain Disruptions include: