February 2, 2021
February eNewsletter 2021 - Review of Trump's Results and Critique of Biden's Reshoring Plans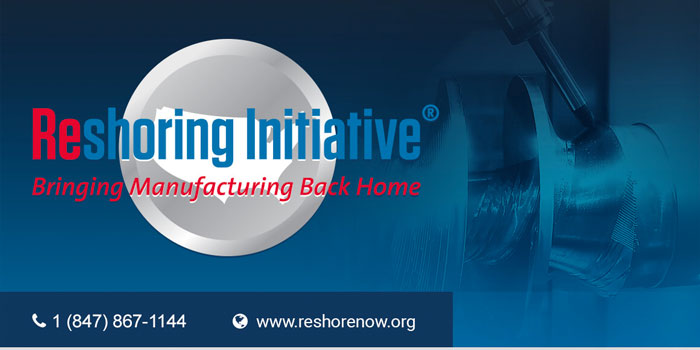 February 2021 E-News: Review of Trump's Results and Critique of Biden's Reshoring Plans
We are asking the Manufacturing Industry to Participate in a Survey of Reshoring Opportunities
Which products and components offer the biggest opportunities for reshoring? What advanced manufacturing technology is needed to enable the reshoring? To what degree did the pandemic disrupt supply chains and how did it affect sourcing? To answer these questions and better understand the needs of the manufacturing technology community, The Association For Manufacturing Technology (AMT) and the Reshoring Initiative are asking industry – including OEMs, job shops, technology suppliers and distributors – to participate in an online survey to help with"
Rebuilding the Supply Chain
. "The survey is open through February 28, 2021.
Since accelerated reshoring needs government help in leveling the playing field, let's take a look at the past and present administrations' reshoring actions and plans.
Trump in Review

President Trump started strong on reshoring. The number of reshoring and FDI (foreign direct investment) jobs announced coming to the U.S. surged from 75,000 in 2015 to 115,000 in 2016 and 193,000 in 2017. Major driving factors included reductions in corporate tax rates and regulations, and a generally business friendly environment. The annual rate then fell off to 154,000 in 2018 and 117,000 in 2019, driven by business uncertainty over the unpredictability of tariffs and other trade war actions. Reshoring picked up in 2020 because of COVID-19, with many PPE investments and increased corporate understanding of risk mitigation through shorter supply chains.

President Trump's haranguing companies to reshore or not offshore did not work. Patchwork, unpredictable tariffs were ineffective. Tariffing steel but not steel products put U.S. manufacturing, other than steel producers, at a competitive disadvantage. Tariffing China caused work to shift to other S.E. Asian countries. Tariffs that are uniform across all countries, all products, and time probably would be much more successful.

At the macro level, the U.S. non-petroleum goods trade deficit grew from $679 billion in 2016 to $854 billion in 2019, clearly not a successful result. The Broad Dollar Index averaged 10% to 15% higher than during the Obama terms, a strong headwind against reshoring and trade balance. But President Trump took no action to reduce the value of the USD. U.S. manufacturing employment did better, increasing from 12.4 million as of 12/31/16 to 12.9 million as of 12/31/19, a strong result, especially late in a recovery.

Conclusion: President Trump successfully alerted the nation to the dangers of a huge and growing trade deficit and China's economic threat. He failed to attack the root cause of the problem, uncompetitive U.S. manufacturing costs because of an overvalued dollar and inadequate skilled workforce. He did not have an effective industrial policy. He therefore failed to make meaningful progress in overcoming the trade deficit and China's economic threat.

Critique of Biden's Reshoring Plans
President Biden brings new plans and hopes. Some are well founded; others will not achieve desired goals. Below, we itemize Biden's plans on various issues, shown in bold type, followed by our critique and suggestions for improvement. Our critique and suggestions are based solely on the plans' ability to achieve a strong start toward balancing the goods trade deficit, reshoring the five million manufacturing jobs that Biden has promised. Such a balance will require an approximately 20% reduction in U.S. manufacturing costs vs. offshore costs and increasing our skilled workforce's quantity by 20% and its skills to the German level.



Biden plans that will accelerate reshoring:



Add 5 million manufacturing jobs We agree. Five million has long been our goal to balance the U.S. $800 billion/year goods trade deficit.



Buy American for government purchases: Increase the difference in price required to justify foreign sourcing and use MEPs for scouting to find domestic sources.

Good idea to include use of MEPs. However, changing the metric from price to

TCO (Total Cost of Ownership)

might double the amount of work reshored without raising the government's total cost.



Directly drive reshoring by Made in America tax credit.

Use subsidies, federal matching, and tax incentives to make American products more competitive and incentivize companies to reshore and expand here.

OK, but the plan is complicated and will be a boon for the lawyers and accountants needed to qualify companies for the incentives.

Too often,

U.S. manufacturing costs are 20% above Europe's and 40% above China's. A much more efficient approach would lower the USD 20% to 30% and make huge investments in skilled workforce to cut those price gaps.



10% offshoring tax penalty on overseas production sold in the U.S.

OK, but this plan does not appear to apply to products purchased from other companies abroad. We recommend a change from a profit tax to a tariff, which then will also apply to purchased products and to products imported by non-U.S. companies. The impact on consumers will be the same.



Public health effort of

$400 Billion for vaccinations, testing, PPE, etc.

Good. This will make it easier to staff U.S. manufacturing.





Strengthen the Affordable Care Act

Good. Put more emphasis on reducing the cost of medical care, which raises the cost of U.S. manufacturing. Cutting the U.S. cost to the German level would cut U.S. goods prices about 4% and reshore about 400,000 jobs.



$50 billion to apprenticeship and other training programs

Agree. Most of the dollars should be in the form of apprenticeship grants or loans, not funding to bureaucratic programs. The training should prioritize the manufacturing skills the country needs more than the skills that a trainee wants to acquire. Change the government message to show that the career opportunities and income with an apprenticeship are as good as those with a university degree. The required recruitment will not occur if free university education is an alternative.



Made in America product labeling: Crack down on false claims

Agree 100%





Tax companies that are parking income in tax havens offshore

Agree. The key is to improve the system by which income is ascribed to different countries. Income needs to be taxed where products are made and sold, not where assets such as trademarks and other IP are stored.





China and steel tariffs are staying for now. Steel tariffs on allies likely to come off sooner.

Agree, but it would be better to replace tariffs with a VAT (value added tax) on all imports as almost all other countries do.





Biden plans that will hinder reshoring:





Strong U.S. Dollar – Treasury Secretary Yellen: "The United States doesn't seek a weaker currency to gain competitive advantage"

Eliminating the USD's approximately 20% overvaluation would drive 1 to 2 million manufacturing jobs to the U.S. Announce a gradual reduction in the value of the USD. Either buy other currencies or apply a

Market Access Charge

to foreign funds stored here in the form of USD.





Raise minimum wage to $15/hr.

This will make some work not reshorable, and will reduce the motivation for low-paid service workers to seek more highly compensated manufacturing careers and for workers to obtain the training now needed to earn a $15 wage. It will increase automation. The

Congressional Budget Office

projects a 1.3 million job loss. As an alternative, we suggest massive expenditures to provide manufacturing skills training via apprenticeships, certificates and community colleges. Motivate many high school students to choose tech skills training instead of liberal arts university degrees.



Raise the corporate tax rate from 21% to 28%

This will decrease the ROI on U.S. capital investment, shifting investment offshore, and will make inversions – moving headquarters offshore – look appealing again. It would be better to maintain the 21% rate or cut it further. Instead, raise the rate on individuals who make more than $1 million/year to recover the lost tax revenue. Companies are much more flexible in their plant location decisions than are individual taxpayers in their citizenship.





Repeal right to work laws

The 27 states that have right to work laws were responsible for 69% of the reshoring from 2010 to 2019. Do we want more jobs or fewer, but more union jobs?





Lower eligibility for Medicare to 60

This will cause more workers to retire early, increasing the forecast shortage of two million mfg. workers. Instead, gradually raise eligibility to 70.





Make college free for low income families ($125,000 or less)

Will shift more smart students from skills training and engineering to liberal arts degrees. We have severe skills shortages, and 30% of all university degree holders are in jobs that do not need a degree. Instead, offer free tuition for degrees in short supply (e.g., engineering and manufacturing) and apprenticeship loans to make apprenticeships affordable to companies and apprentices.





Do nothing about products outsourced offshore

Biden's plans all seem to deal with companies' owned factories offshore. Most of the imports, especially from China, are produced by foreign OEMs or contract manufacturers. Solution: Make U.S. contract manufacturers more competitive via currency, skilled workforce, low tax rates or a VAT.



Conclusion:President Biden has the right objective: Add 5 million manufacturing jobs. He believes the objective is achievable. "Biden believes that American workers can out-compete anyone, but their government needs to fight for them."* The Biden plan does not, however, include the elements to make his belief real by reducing U.S. costs by 20% vs. offshore and assuring universal use of Total Cost of Ownership. Competitiveness requires a lower USD and motivating many more students to choose a manufacturing apprenticeship or engineering degree instead of a liberal arts degree. Unless he takes these actions, Biden will repeat Trump's failure.



The Reshoring Initiative is available to provide data and analysis to refine the Biden plan.





*Sources:

https://www.investopedia.com/joe-biden-s-economic-plan-save-the-middle-class-4769869

and

https://joebiden.com/the-biden-harris-plan-to-fight-for-workers-by-delivering-on-buy-america-and-make-it-in-america/



Upcoming Events



February 9 – Practical Machinist: Bringing Manufacturing Back Home, 12:30 pm CST
February 9 – IERG Chicago Chapter Meeting
February 16 –TMAC COVID-19 Supply Chain Wake-up Calls for Reshoring Now, Part 1
February 17 – Social Capital podcast
February 18 – CompanyWeek, Need to Know: Supply Chain Reality Check, webinar
February 23 – TMAC COVID-19 Supply Chain Wake-up Calls for Reshoring Now, Part 2
February 24 –Business Facilities webinar
March 1 – Petroleum Packaging Council Spring Meeting, in person, Tampa,FL
April 19 – ICI Business & Leadership Development Conference,in person, New Orleans, LA
April 21 – AFS Metal Casting Congress
The Reshoring Initiative seeks volunteers to help enable reshoring. We are looking for several experienced manufacturers to commit 5 or 10 hours/week for at least a few months. Helpful qualifications include Microsoft Excel competence, general manufacturing knowledge and comfort talking to other manufacturers by phone or via Zoom. Successful volunteer work could lead to paid part-time contract work.

Thanks to all our readers, our sponsors and the companies who use TCO to reshore.

Want to help? Please consider making a tax-deductible donation to the Reshoring Initiative. Also, remember to use the RI Smile link when you make purchases on Amazon.

Take the 5-minute Reshoring Opportunities Survey here.

Sincerely, Harry Moser, Founder, Reshoring Initiative
Millar Kelley, Newsletter Editor and Research Analyst
Join ourmailing list.
View past eNewsletters.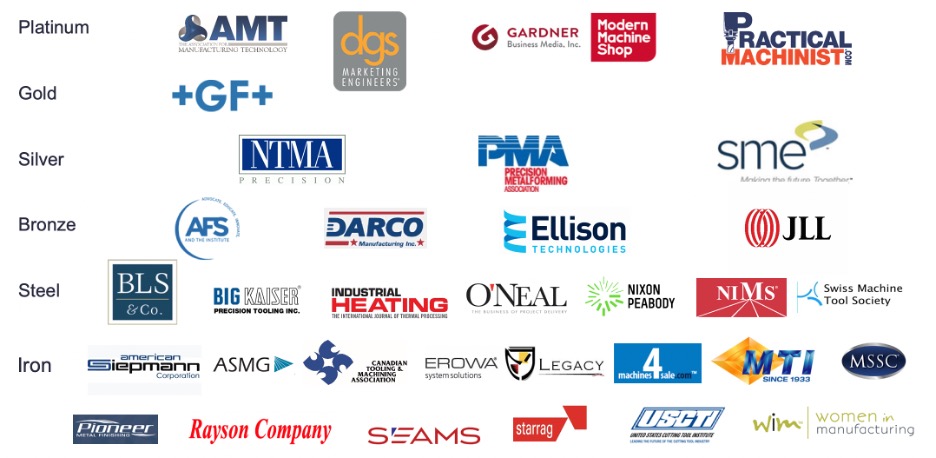 Why Reshore


Reshoring is an efficient way to increase corporate profits, reduce imports and regain manufacturing jobs in the United States. It's also the fastest and most efficient way to strengthen the U.S. economy.