August 12, 2022
August 2022 E-News: Part I: China Decoupling Threat Drives Reshoring
August 2022 E-News, Part I: China Decoupling Threat Drives Reshoring
China – The weak link in supply chains
China's increasing strengths and weaknesses should sound alarms for companies producing and sourcing there. Military strength is up; economic growth is near zero and uncertain; and foreign companies are less welcome. The possibility of voluntary decoupling by China or a military incident over Taiwan are increasing. Additional considerations include the ongoing labor shortage; rising wages; and the recent announcement that China's zero-Covid policy will continue through at least 2027.
We focus on China because it represents 33% of the U.S. goods trade deficit and has been the source of 44% of reshoring. As U.S. companies recognize that China will not be as good a market as in the past and an unreliable source of goods, they will increasingly choose to reshore.
China Is Giving Off Strong Lehman Brothers Vibes Xi keeps going missing, the economy is on the brink and people are getting restless.
Beijing Doubles Down on Zero COVID China announced that the Zero Covid policy will continue until at least 2027. Watch the video or see LinkedIn discussion here.
Jeep's China Failure Sends Foreboding Signal to Global Carmakers China is not as hospitable as in the past. "The golden era of brisk growth and abundant profits for international companies and their local joint venture partners is over."
China more aggressive, dangerous to US, allies "U.S. military officials have said Beijing wants to be ready to make a move on the island (Taiwan) by 2027." "The message is the Chinese military, in the air and at sea, have become significantly more and noticeably more aggressive in this particular region,"
U.S. Officials Grow More Concerned About Potential Action by China on Taiwan Learning lessons from the Ukraine, China could make a move soon, before Taiwan can build up its military arsenal.


Moving Production from China and Taiwan Matters More Than Ever "World events far more powerful than any industry trends can render all supply-chain microplanning moot."
What should the U.S. be doing?
Companies need to prepare for deteriorating U.S.-China relations. In June, Harry Moser arrived at the senate to present a testimony to the U.S.-China Economic and Security Review Commission outlining the needed actions by companies and government. While there are many pieces to the puzzle, the number one objective toward reducing our dependency on China is to improve our cost competitiveness. The first policy is to massively improve the quantity and quality of our skilled workforce, to be more like Germany. The testimony below details this and other needed policy changes. View Harry Moser's oral Hearing, written testimony and supporting appendices. In the video Harry presents at 7:45.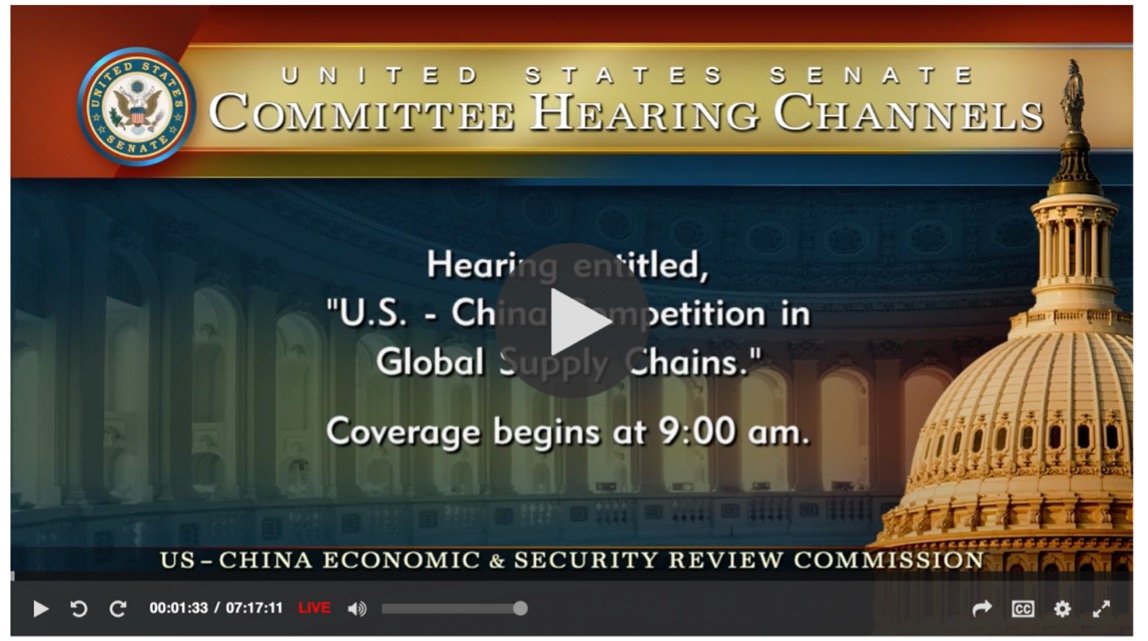 For further review see Commission Examines Critical Vulnerability in the Global Supply Chain: China.
The Tiny Loophole That Understates the Trade Deficit With China
"Official U.S. statistics fail to capture the surging imports of packages that are exempt from tariffs." There are 300 million shipments/year from China. The U.S. allows duty free up to $800/shipment. China allows less than $8. This loophole needs to be closed now.
Preparing for China Decoupling Should Start NOW Key points:
China's decoupling will be fairly gradual and then very sudden

US-China trade policies will make China manufacturing untenable

Southeast Asia is probably not the answer to China decoupling

China forced labor will soon destroy US-China trade relations and will be decoupling's catalyst
U.S. Manufacturing Responds
US Manufacturing Capacity Utilization Is at Its Highest Since 2007 According to FRED,U.S. manufacturing capacity utilization was 80.4 percent in April 2022. This is its highest level since April 2000 and the first time above 80% since 2000. Capacity utilization measures the extent to which producers realize their potential output and make use of available capital. When utilization is above 80%, manufacturers dramatically increase investment because they have the demand and the needed profitability. Reshoring helped drive the capacity utilization. Increased investment will enable more reshoring.

US Factory Boom Heats Up as CEOs Yank Production Out of China Companies are clearly responding to over-globalization risks. The fever among American executives to shorten supply lines and bring production back home has proven NOT short-lived. Two years into the pandemic, not only is the trend still alive, it appears to be rapidly accelerating. Compared to pre-pandemic periods, corporate earnings calls and conference presentation references to onshoring, reshoring and nearshoring are up over 1,000%: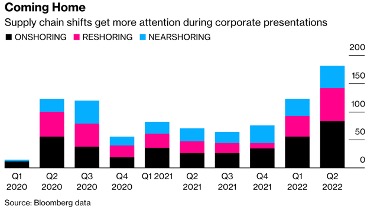 A Goldman Legend, Crypto Star and Top Banker Warn of Next Big Risk Mr. Moelis on deglobalization: "There's a lot of Western investment in Hong Kong — what happens if we end up in a … disagreement or conflict, are those assets subject to immediate abandonment? These are questions everybody's going to ask… I'm not saying we'll go to 100% investment in your own country. But boy, the risk premium has significantly gone up." "Each country will move to protect their own citizens. And as a result, they might deglobalize ahead of you."
Keep an eye out for the RI August Newsletter, Part II, reporting on the upcoming Reshoring Initiative 2022 IH Data Report that shows the impact of these trends.
Upcoming Events
August 25 – Manufacturing Talk Radio

September 12 to 17 – International Manufacturing Technology Show - IMTS 2022, Chicago, IL
September 13 – IMTS, MFG Learning Bar at Gardner Booth 236600, entrance to N. Building at 1:30pm
September 14 – Hannover Messe USA at IMTS, W-196A at 9am
September 14 – IMTS Media Briefing
September 16 – The inaugural Smarter Sourcing Symposium at IMTS 2022, presented by The Onshoring Project, will deliver direct strategies for sounder and more financially beneficial North American part production. OEMs, tier suppliers and contract manufacturers, alike, will benefit from first-hand demonstrations and panel discussions on new tools and proven techniques for leaner, more agile, more profitable domestic sourcing. Friday, Sept. 16, 2022: 8:30 a.m. - 11:00 a.m. in the South Building, Ballroom S100ab. Registration is required.
September 16 – National Metalworking Reshoring Award at IMTS, 12:30pm on the Main Stage
September 18 – ASCM Connect, Annual Conference , virtual
September 29 – Manufacturing Talk Radio
October 6 – PMA webinar
October 12 – Railway Supply Industry (RSI), Ft. Worth, TX
October 12 to 14 – AMT MT Forecast, St. Louis, MO
October 23 – IAMC, Detroit, MI
October 27 – Manufacturing Talk Radio
November 24 – Manufacturing Talk Radio
December 29 – Manufacturing Talk Radio
February 22, 2023 – STI/SPFA Annual Meeting, Coronado, CA
See Upcoming Events for the latest updates.
Also, we encourage attending the AME 2022 Conference: Embrace Disruption, Oct 17- 20, Dallas, TX.
Why Reshore
Reshoring is an efficient way to increase corporate profits, reduce imports and regain manufacturing jobs in the United States. It's also the fastest and most efficient way to strengthen the U.S. economy.