February 7, 2022
February 2022 E-News: Continuing Troubles in China Make Reshoring More Attractive
February 2022 E-News: Continuing Troubles in China Make Reshoring More Attractive
These famous companies are becoming less dependent on China Apple, Microsoft, Nike, HP, Yahoo, LinkedIn, Intel and Alphabet are just a few of the companies pulling some work out of China. Companies are leaving for a myriad of reasons, including supply chain difficulties, censorship, U.S. tariffs on imports, security issues and ethical concerns regarding the mistreatment of Muslim Uyghurs. There is a space in the current TCO Estimator to quantify such factors. The revised TCO Estimator, due out this year, will more directly address these and other hot issues.
A Look at China's Unethical Business Practices Great user cases of bribes, IP theft, generic products sold as branded products, etc. Also, check out some firsthand troubling experiences in Offshoring Gone Wild: Stories from the Front.
Millions of critical medical supplies delayed at congested ports 12,000 containers filled with millions of critical medical supplies are currently delayed on average 37 days, jeopardizing U.S. pandemic response.


Why Localizing the Supply Chain Ensures Your Organization's Survival Supply chain practitioners in every region of the world need to focus on localization. "If we partner with our local suppliers we can drive total costs down and we improve the overall value delivery of the supply chain."
Report: Shipping emissions rose nearly 5% in 2021, exposing an 'inconvenient truth' during the drive to reduce carbon intensity worldwide and highlighting yet another reason to reshore.
The ultimate threat: China decoupling There is a small but not insignificant possibility that the U.S. will be cut off from many or all Chinese exports. Sudden violence over Taiwan, ongoing anger over U.S. positions on Hong Kong, the Uyghurs, tariffs, etc. could cause China to stop exporting to the U.S. China would lose about 18% of its exports. Decoupling would be painful to China. The U.S. would lose the huge percentage of its consumption now sourced from China or including Chinese components. Decoupling would be existential for some U.S. companies. Specifically, Beijing has promised retaliation if the $250 billion U.S. Innovation and Competition Act becomes law, including "stopping select exports essential to key industries, e.g. automotive sector."
Opportunities for U.S. Manufacturing
American Giant doubled down on local manufacturing during the pandemic. It paid off. Where there is a will there is a way!
See if reshoring makes economic sense for your company or for your customers who have offshored.
WE CAN HELP YOU REACH YOUR 2022 OBJECTIVES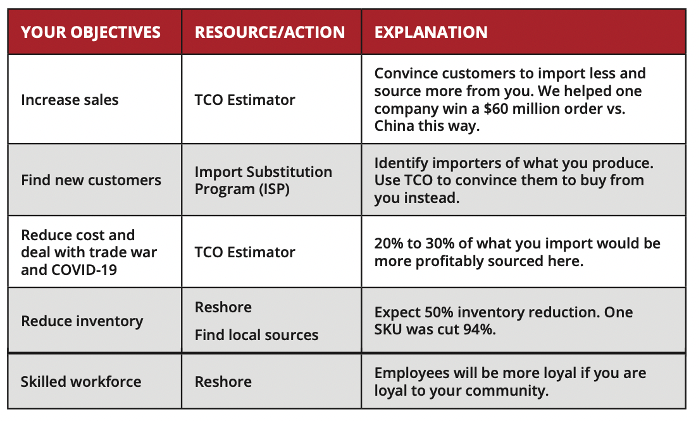 See TCO Estimator and Import Substitution Program (ISP) or contact us for help.
Upcoming Events
February 10 – AMT TCO/MCT webinar: Tools That Strengthen U.S. Manufacturing Self-Sufficiency
February 14 and 15 – Sourcing at MAGIC, Las Vegas, NV
March 10 – IMTS 2022 webinar
March 22 – NTMA Spring Conference, Costa Mesa, CA
April 24 – AFS CASTEXPO & Metalcasting Congress, Columbus, OH
April 27 – WAC2022 Adhesives and Sealants Conference, Chicago, IL
April 28 to 30 – AMT MFG Meeting, Bonita Springs, FL
June 26 to 29 – SelectUSA, Washington, DC
September 12 to 17 – International Manufacturing Technology Show IMTS 2022, Chicago, IL
October 6 to 9 – Made in America, Louisville, KY
October 12 to 14 – AMT MT Forecast, St. Louis, MO


See Upcoming Events for the latest updates.