Tell Us Your Reshoring Story
The best way to motivate more companies to reevaluate offshoring is through real-world success stories. That's why the Reshoring Initiative® is always looking for examples of how OEMs, contract manufacturers and distributors have effectively brought back or kept from offshoring the domestic manufacture of a part or product.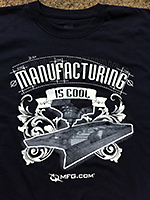 When your company submits a success story, you also receive exposure on our website, and we may use the story as an example during media interviews and presentations to key manufacturing influencers. The first 50 to submit a new case study will receive a free "Manufacturing is Cool" t-shirt.
Submitting a reshoring case study is fast and easy.
Gather input from your sales team, applications engineers and customers.
Login to your account. (New users must create an account in order to submit a case study.)
Complete the fill-in-the-blanks template.
Receive a link to download a PDF of your case study.