Reshoring Initiative Data Report: Reshoring and FDI Boost US Manufacturing in 2014
The combined reshoring and related FDI trends continued strong in 2014, up about 20% from record levels in 2013. Nevertheless, these trends are still in their early stages. The purpose of this report is to provide trend data that will motivate companies to reevaluate their sourcing and siting decisions and assist them in making better decisions that consider all of the cost, risk and strategic impacts flowing from those decisions.

This document contains data on the following trends in U.S. Reshoring and FDI for the period 1997 thru 2014, but primarily 2010 thru 2014. All data is for the full period '97 to '14 period unless otherwise specified. All data is for the U.S. only unless otherwise specified:
Data Charts
1. & 2. Reshored + FDI Manufacturing Jobs Reshoring + FDI by Tech Level
3. Reshoring + FDI by Tech Level
4. Reasons Cited for Reshoring + FDI
5. Reshoring by Industry
6. FDI by Industry
7. Reshoring by Country from
8. FDI by Country from
9. Reshoring + FDI by International Region From
10. Reshoring Cases by State
11. FDI Cases by State
12. Reshoring + FDI by U.S. Region
13. International Summary – Cases of Reshoring outside the U.S.
1. Reshored + FDI Manufacturing Jobs
The bleeding of manufacturing jobs to offshore has stopped. In the last decade the U.S. has gone from losing about 140,000 manufacturing jobs per year to gaining 10,000 or more per year. There are still 3 to 4 million manufacturing jobs offshore, a huge potential for U.S. economic growth.

2. Reshored + FDI Manufacturing Jobs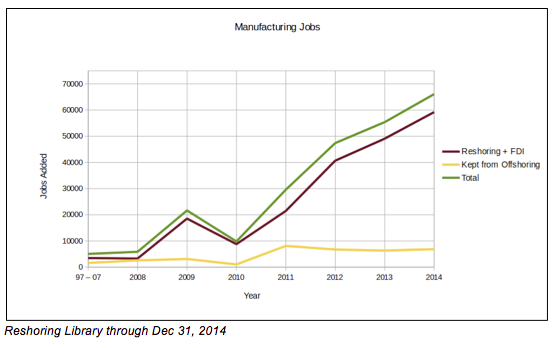 3. Reshoring + FDI by Tech Level
It is generally agreed that high tech manufacturing jobs are more desirable than low-tech: more investment, more R&D, higher pay, less risk of loss to low wage countries, etc. Reshoring is balanced between high and low tech while FDI is stronger in high tech.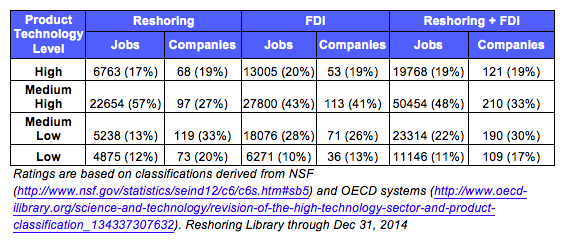 4. Reasons Cited for Reshoring & FDI
Understanding the reasons for reshoring is necessary for companies to proceed to quantifying those reasons, e.g. using the Reshoring Initiative's free online Total Cost of Ownership Estimator™. The reasons for reshoring and FDI are similar with the following major exceptions. Reshoring places higher emphasis on Made in USA image, automation and re-design of the product. FDI places more emphasis on government incentives and skilled workforce. Since reshoring is almost all from low-wage countries the companies have to minimize labor cost here to enable reshoring and can provide more perceived value by offering Made in USA. Since most FDI is from other developed countries Made in USA is a less powerful sales argument. The foreign company can be recruited by all 50 states and often has larger projects, thus more government incentives.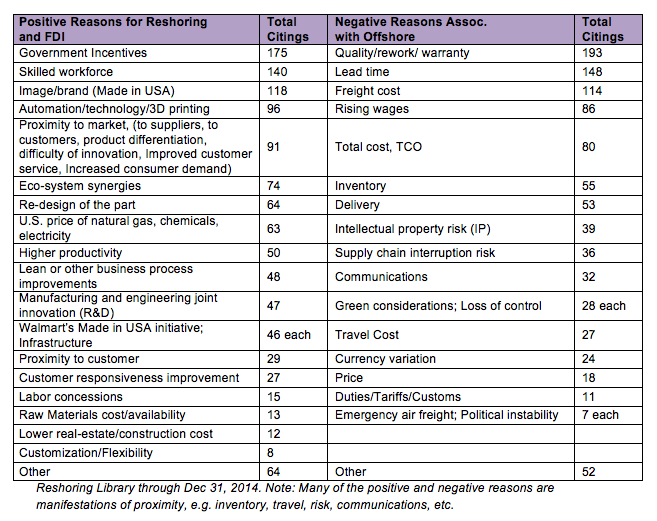 5. Reshoring by Industry
Only products that have been imported can be reshored. Thus, the products least suitable for offshoring never left. The most active reshoring is in those that left and probably should not have done so.

The table below is primarily sorted by 3-digit NAICS code industry. We also break out several active industries that are in the NAICS Miscellaneous Manufacturing category. Generally, reshoring is focused on products whose size and weight suggest offshoring never offered great Total Cost savings.

The Reshoring Initiative tracks actual cases of reshoring. Nevertheless, five of our top six industries are on the list of seven Tipping Point Industries that Boston Consulting Group projects to be reshored based on BCG's analytical studies based on wage rates, productivity, total cost, etc.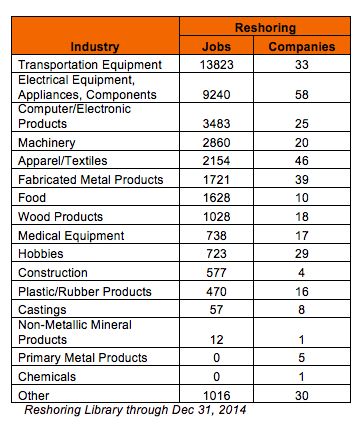 6. FDI by Industry
FDI is more heavily weighted towards transportation equipment because of the ongoing investment in automotive assembly plants and related suppliers.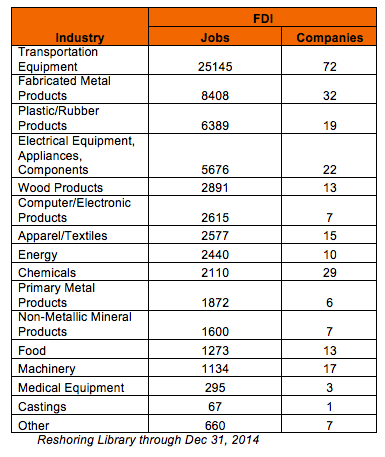 7. Reshoring by Country From
Over 50% of reshoring has been from China. This is consistent with the huge percentage of offshoring that went to China but is a major change from the view in the decade of 2000 to 2010 that China was indomitable. The other leading countries are predominantly developing countries. Canada is prominent, perhaps due to a recent period of high currency value. Europe is disproportionately low, probably due to: more U.S. companies producing in-house there, as opposed to outsourcing to Asia; less rapid wage gains; low IP risk and higher quality. Mexico has been the destination for a lot of nearshoring but is also the #2 source of reshoring, primarily automotive and appliance.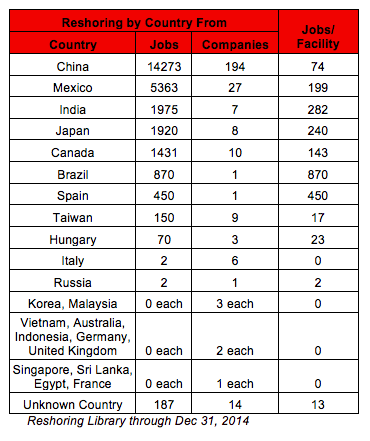 8. FDI by Country From
German auto manufacturers and Siemens drive Germany's high ranking. China's strong presence is consistent with the reshoring trend from China since reshoring and FDI are driven by the same financial advantages of producing in the market.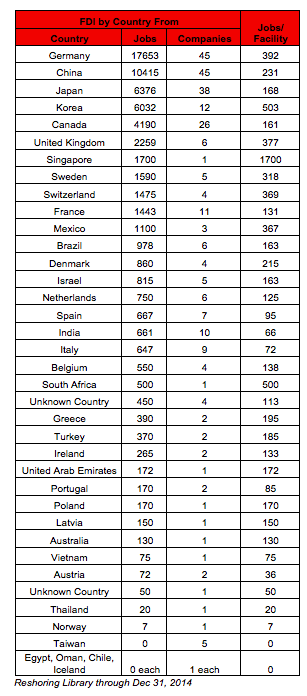 9. Reshoring + FDI by International Region From
As previously mentioned, Asia dominated reshoring and Europe, esp. Germany, dominated FDI.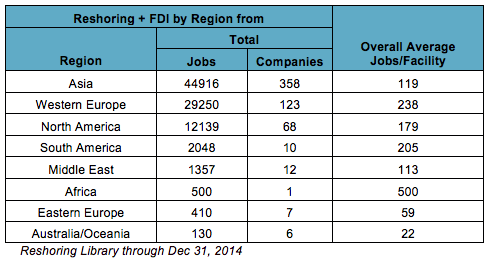 10. Reshoring Cases by State
Reshoring is strongest in the southeast and Texas, consistent with BCG's forecast that that region would be the first to become competitive with China for products to be sold here. The tendency is for green-field factories to go into these lower wage, lower tax, right-to-work states. Reshoring in the north is more often into existing company facilities.

11. FDI Cases by State
The geographic pattern is similar to that for reshoring.

12. Reshoring + FDI by U.S. Region
The largest reshoring projects tend to go into the southeast and Texas. The Midwest is second based on reshoring to its strong industrial base.

13. International Summary –Cases of Reshoring outside the U.S.
Reshoring is bringing the work back to the home country, especially to be sold in the home country. Reshoring efforts are underway in many countries, sometimes motivated by government actions. This table is our first effort to capture the reshoring activity in other countries. The completeness of this data is much lower because of our lack of ready access to the local media.
57 cases mentioned out of 254 articles on international reshoring. Our data is fairly complete on Canada but very partial on other countries.
Data refinement is ongoing.
To see a full list of companies in the database click here.
If your company is listed, email us to request your company's data to review, edit and return. Please include your company name and detailed contact info.
To add your company to the Reshoring Initiative's database click here.