Definitions of Reshoring
All manufacturing qualifies: products, assemblies, components, tooling, etc.
Companies that qualify:
1. OEMs that bring back in-house manufacturing, e.g. assembly. Additional components and tools they then order domestically.
2. Suppliers that gain business because of OEM action in item #1.
3. OEM has assembly here. Domestic components and tools replace offshore sources.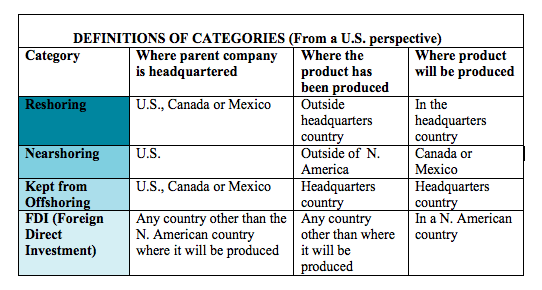 We include in reshoring:
1. When the production of the original product or tool is returned, or an updated revision
2. When a US manufacturer is taking market share from a foreign manufacturer, e.g. Ford produces a new domestic model that takes share from Toyota imports.
3. Most new apparel production since only 2% of apparel consumption is produced here.
4. Even an entirely new product that replaces the function of a different product that had been imported.
We are most interested in production intended to be sold or assembled in the country or continent in which it is produced. Exported work is also included, however.
Not included: Expansion due to natural market growth. While this is also an important indicator of industry health, it is not within the scope of reshored production.
---
originally posted 10/12/15